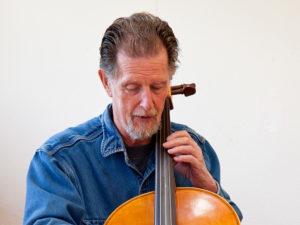 I was born in Chicago in 1941 to a working class, musical family. My grandfather worked as a professional pianist in Hollywood from the late '30s to the early '50s and my uncle was a professional singer in Hollywood from the late '30s on. Since my mother was a fine pianist and my father loved to sing, I grew up surrounded by music.
Nothing much remarkable happened to me until I was 12, when I began my cello studies. A Hungarian music teacher visited our school to promote a new music program. He brought along some instruments and asked for volunteers willing to learn a simple song. My younger sister and I eagerly volunteered. I was handed a violin and she a cello. When we got home, we excitedly asked our mother if we could take music lessons. She tried to talk us out of it, but we were insistent. Finally, she asked if I wouldn't feel ridiculous walking home carrying a little violin and my little sister a big cello. We readily agreed to switch instruments.
Playing the cello would eventually bring me a lot of attention, a prized commodity in a large family of eight kids who, except for my brother, were all musically inclined. My oldest sister played piano, two of my younger sisters played violin, another younger sister played viola, and another played cello. Two of my sisters were also very fine artists.
I began my cello studies with Walter Brauer, principal of the Schubert Theater in Chicago, and learned from him until his death a year or so later. I then studied with Karl Früh who, along with Leopold Terispulski, were the cellists in the NBC Studio Orchestra. I had many of my lessons in spare studios at NBC, including the studio where the children's television show Kukala, Fran and Ollie's was broadcast. I later studied with Marijane Carr Seigal, who played in the Grant Park Symphony and the Lyric Opera. My formal study of the cello ended with Robert Swenson of the Walden Quartet at the University of Illinois. I continued to study informally with Lev Aronson, Professor of Cello at SMU in Dallas, during our close 15-year friendship.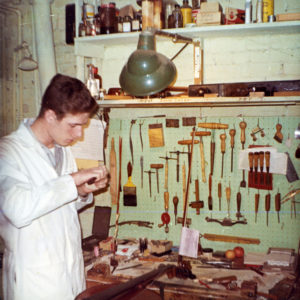 My violin making career began in 1958 when I was 17. I was a serious young cellist by that time and had learned that many musicians needed second jobs to support themselves. I had spent my younger years hanging around my Dad's wood shop, where he made archery equipment and furniture as a hobby. Those hours spent with my Dad instilled in me a deep love of woodworking. Because of this, I thought that violin repair would be my perfect second job.
My introduction to violin making came from Hermann Bischofberger's shop in Chicago, where I purchased my first full-sized cello. My fascination with the craft began with the miniature display in his shop window, illustrating each step of the violin making process. I was also very impressed with the quartet of instruments that he had made that were on display in his shop.
Once I decided to become a violin repairman, I walked from violin shop to violin shop in downtown Chicago, telling the owners of my life plan. While most dismissed me politely, Bob Kagan, the owner of Kagan and Gains, listened to me carefully. Kagan, a sharp businessman, recognized me as free help and put me under the direction of his bow man. Within a year, when I was only 18, I was doing bow work for many members of the Chicago Symphony, including principal cellist Frank Miller and concertmaster Sidney Harth. Once, I even worked on cellist Raya Garbousova's Tourte. After a while, Kagan put me under the direction of his violinmaker, Franz Kimberg, where I learned the fine points of violin repair, restoration, and eventually violin making. By this time, I had decided to make violin making my career, while playing cello and bass to support myself during my apprenticeship. For many years, even after leaving the Chicago area, I returned to have Franz critique my instruments; the last time was in 1985.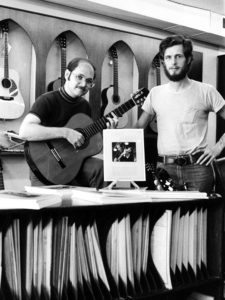 Never liking the big city, I took a job in Champaign, Illinois around 1963. I eventually became shop and string department manager with three to four repairmen working under me. In 1969 I started my own business. Weary of the Midwestern winters and having difficulty drying my varnish, I moved my business to sunny Dallas, Texas and became an immediate success. In 1971 I became a partner in a business called Frets and Strings. We specialized in classical guitars and violins. One of my partners was a fine guitar maker. I ran the repair shop with two to three repairmen under me and handled the strings end of things. Since the mid '60s I had continued to make violins and violas in my home shop during evenings and weekends, making one to two instruments a year. In the early '70s the demand for my instruments required me to spend two to three days a week at home producing instruments. In 1975, after a falling out with my partners at Frets and Strings, I decided to stay home permanently, exclusively making violins, violas, and eventually cellos.
By 1988 Dallas had changed so much that I was no longer comfortable living there. Once again, I found myself living in a big city. Moreover, since my success as a violin maker and reputation were established nationally, I no longer needed to live in a large city. In 1989 I decided to move to the artist community of Taos, in the mountains of northern New Mexico. Eventually I purchased land and built a house and shop in the Sangre de Cristo mountains to the east of Taos at an elevation of 8,600 feet, where I have lived happily ever since.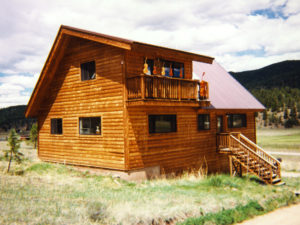 In 2007, at the age of 66 I decided to retire after making 67 violins, 57 violas and 55 cellos. I thought it was time I thought about and did something besides violins. I put away my violin making tools and began to learn wood turning. I also began to write some memoirs and short stories about some of the unusual people I had known in the violin business over the years.
Then, in 2015, Klarissa Petti, who had already made two violins and a cello while working with Peter White at the University of New Mexico, asked me if I would teach her my methods. I thought maybe it was time to have someone make careful notes, recording what I had learned during my fifty years in the violinmaking business. This has prompted me to start making again part-time; I have recently completed a viola and as of September 2017 I completed my 56th cello.